/
Products / Hexafluorine® / DAP Hexafluorine® /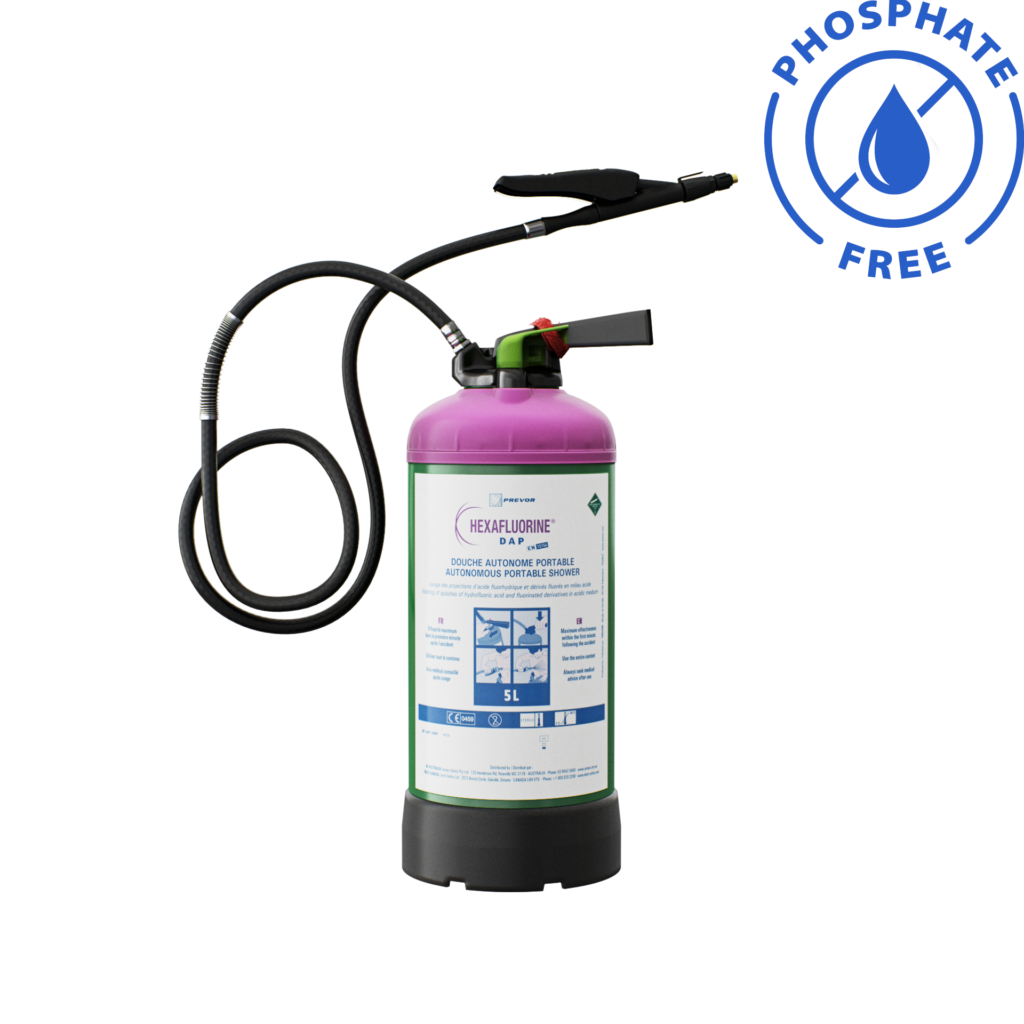 Hexafluorine® Autonomous Portable Shower
On the site of a company using hydrofluoric acid, employees are exposed even if they have personal protective equipment. Hydrofluoric acid, which is corrosive and toxic, can be sprayed on a more or less large surface of the human body. Between the pain related to the penetration of the chemical product and its dangerousness, the employee may find himself in a situation that exposes him to long-term consequences such as chemical injuries. Hydrofluoric acid is also toxic and even a small amount can lead to heart dysfunction.
When an employee is the victim of an accident involving hydrofluoric acid, it is necessary to intervene quickly to counter the effects of this chemical. In view of its corrosive and toxic action, washing must be effective to prevent after-effects. If the acid has reached the eyes but also another part of the human body, the intervention must be well organized in order to help the affected employee in the best possible conditions. When the accident occurs, it must be possible to bring the washing solution to the affected employee so that no time is lost. A safe and easily applicable product will simplify the first emergency. The Hexafluorine® solution in its portable shower format makes it possible to stop the action of the chemical product and to wash the employee on a large surface of the human body, such as a thigh or an arm.
Benefits for the user:
Speed of intervention
Decreases severity
Increases intervention time
Simplifies the emergency
Relieves the victim
Can be used on damaged eyes and skin
Mobility
Decreases maintenance costs
How does it work?
Hexafluorine® solution is a liquid that removes by entrainment the aggressive chemical remaining on the surface.
The Hexafluorine® solution is hypertonic which allows it to stop the progression of the chemical agent, to bring it out of the tissues and thus contribute to the total decontamination of the projection.
The properties of the Hexafluorine® solution allow it to stop very quickly and simultaneously the aggressiveness of acid ions (H+) and fluorine ions (F-).
It is the combination of these different properties that allows the Hexafluorine® solution used immediately after the accident to decontaminate the hydrofluoric acid splashes in an optimal way and thus avoid the terrible after-effects too often observed during this type of splashes (amputation, major surgery or even death of the accident victim by cardiac arrest).
Prevor products do not contain any phosphates.
The presence of phosphates in a solution prevents its use on certain products (e.g. lime, cement, etc…). Certain studies have shown that side effects due to phosphates can occur in some cases. Prevor in its desire for universality has always worked without phosphates.
Properties
Easily identifiable, the DAP is green to be able to differentiate it from the fire extinguisher.
Use similar to a fire extinguisher so no specific training is required.
Ready to use, allows quick action.
Gentle, micronized and very wetting spray for a quick wash without trauma and a perfect distribution of the solution.
Possibility of using the DAP by the injured person alone.
Long flexible hose allowing a total and complete washing of the body.
Transportable, which allows the rescuer to be protected because it will not have contact with the soiled parts of the victim.
Can be used even when the DAP is lying down.
Easy control of the washing efficiency: total and unique use.
Sterile solution.
Seal ensuring the integrity of the device.
No special maintenance and no special installation (no need for power supply, piping or valve, no more leakage problems, …).
The DAP can be moved at will for modular workshops.
Possibility to store in a protection box or an antifreeze box.
Rechargeable with the possibility of a maintenance contract.
Complies with the EN 15154-3 standard.
CE approved
Download all documents on this subject