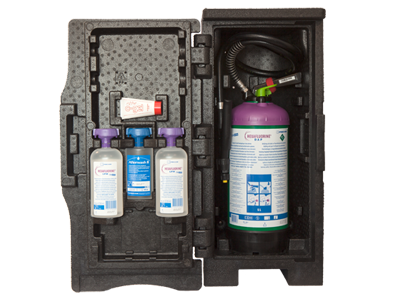 Hexafluorine® All-in-one case
On the site of a company using hydrofluoric acid, employees are exposed even if they have personal protective equipment. Hydrofluoric acid, which is corrosive and toxic, can be splashed into the eyes and/or onto a larger or smaller surface of the human body. Between the pain associated with the penetration of the chemical and its dangerousness, the employee may find himself in a situation that exposes him to long-term consequences such as chemical injury. Hydrofluoric acid is also toxic and even a small amount can lead to heart dysfunction. If the accident takes place in an unheated or outdoor location where the temperature is below 0°. Between the pain, the risk of hypothermia and the penetration of the chemical, the employee may find himself in a very delicate situation.
When an employee is the victim of an accident involving hydrofluoric acid, it is necessary to intervene quickly to counter the effects of this chemical. Faced with its corrosive and toxic action, washing must be effective to prevent after-effects. If the acid has reached the eyes but also another part of the human body, the intervention must be well organized in order to help the affected employee in the best possible conditions. When the accident occurs, it must be possible to bring the washing solution to the affected employee so that no time is lost. A safe and easily applicable product will simplify the first emergency.
If the accident occurs in an unheated place, the washing solution must be kept from freezing in order to be operational at all times and thus be used comfortably without risk of hypothermia by the victim.
This aspect is very important because the Hexafluorine® solution, in its integral case with a cold option, allows to act even in a situation where the risk of hypothermia is present.
Benefits for the user:
Speed of intervention
Decreases severity
Increases intervention time
Simplifies the emergency
Relieves the victim
Can be used on damaged eyes and skin
Mobility
Decreases maintenance costs
Removes the risk of hypothermia
How does it work?
Hexafluorine® solution is a liquid that removes by entrainment the aggressive chemical remaining on the surface.
The Hexafluorine® solution is hypertonic which allows it to stop the progression of the chemical agent, to bring it out of the tissues and thus contribute to the total decontamination of the projection.
The properties of the Hexafluorine® solution allow it to stop very quickly and simultaneously the aggressiveness of acid ions (H+) and fluorine ions (F-).
Its chelating power on these ions is 100 times greater than that of calcium gluconate (antidote conventionally used on hydrofluoric acid burns).
It is the combination of these different properties that allows the Hexafluorine® solution used immediately after the accident to decontaminate the hydrofluoric acid splashes in an optimal way and thus avoid the terrible after-effects too often observed during this type of splashes (amputation, major surgery or even death of the accident victim by cardiac arrest).
Properties
Fixed and easily identifiable
Easy to use
Ready to use.
Allows quick action without assistance
Can be used at temperatures down to -40°C (thermostat 5-15°C for solutions), recommended if there is a risk of frost.
Box adapted to the washing of the whole body thanks to the different packagings included
Gentle, pressureless, self-contained wash with all containers (eye wash, shower).
Sterile solution.
Washing control: the total and unique use of each container makes it easy to know the washing time.
Wall-mounted box
Waterproof case (IP54), meets the industrial constraints of hygiene and cleanliness.
Protects the products from dust, corrosion and frost
No special maintenance
The wall washing station is independent and therefore easily movable for workshops with a modular character.
Conforms to EN 15154-4 and DIN EN 15154-4 standards
CE conformity
Download all documents on this subject